Featured Article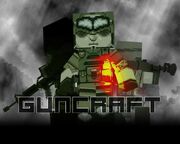 Guncraft is a first person shooter video game developed by independent game studio Exato Game Studios. It utilizes the voxel style that has been used in other games like Minecraft.
Featured Video
Blogs
Create blog post
News
Hi there,

Due to the inactivity of the former owner of this wiki, I have taken it over and intend to make it the official wiki of Guncraft! However in order to do this, it first has to be overhauled. That's where you guys come in. I am actively encouraging any and all people familiar with Guncraft t…

Read more >
See more >
Featured Media
Ad blocker interference detected!
Wikia is a free-to-use site that makes money from advertising. We have a modified experience for viewers using ad blockers

Wikia is not accessible if you've made further modifications. Remove the custom ad blocker rule(s) and the page will load as expected.