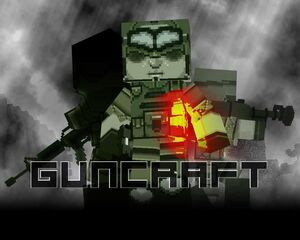 Guncraft is a first person shooter video game developed by independent game studio Exato Game Studios. It utilizes the voxel style that has been used in other games like Minecraft.
As of July 16th, 2012 the game is in open beta.
As of August 9th, 2013 the game is available on Steam. The game is currently on V2.12 and is constantly receiving updates.
On 28 August 2014, Exato Game Studios announced that they are working on an Xbox Live version of Guncraft that is scheduled for release in the fourth quarter of 2014. New features include split-screen and new animations for the player.
Requirements
Main: Minimum Requirements
Guncraft requires a DirectX 10 compatible card.
Minimum
Memory: 1 GB RAM
DirectX: Version 10
Hard Drive: 375 MB available space

Recommended
Memory: 2 GB RAM
DirectX: Version 11
Network: Broadband Internet connection
Hard Drive: 375 MB available space

Weapons
See main article: Weapons
Guncraft offers a small range of default weapons but makes up for it by allowing users to build their own gun.
See Also
Ad blocker interference detected!
Wikia is a free-to-use site that makes money from advertising. We have a modified experience for viewers using ad blockers

Wikia is not accessible if you've made further modifications. Remove the custom ad blocker rule(s) and the page will load as expected.